Welcome to the home of Breast Cancer in Singapore.
At this site, you will find answers to all your questions on breast cancer, its presentation, diagnosis and treatment. You will also find a community of patients, care-givers, medical professionals and breast cancer support groups and societies to provide the support you and your loved ones will need to overcome the challenges ahead. You are also welcomed to share your insights and experience and triumph on these pages as well.
We are a growing site. We aim to give the Singaporean breast cancer patient and their family the most relevant information regarding their care and treatment. For healthcare professionals and breast cancer specialists, we aim to provide a centralized repository of related information as well as regular updates of the most interesting and relevant news from the growing literature on breast cancer management.
Let us know how best to help you by giving us feedback on what you will like to see on this site or what queries you want answered.
This is YOUR site and we are here for you. We look forward to having you here with us.
You may want to have a quick look at some of the latest news on breast cancer research.
————————————————————————————————————-
Latest Mammography Screening study adds controversy: is Breast cancer screening in women 40-59 years old more likely too harm than to help?
The latest research on the controversial area of mammography screening for breast cancer is bound to stir up what has always been a heated debate.
This study by researchers from Canada compared the incidence of breast cancer and deaths in 89,839 women aged 40-59 – some of whom received mammographic breast cancer screening, while others did not. After a five-year period, the women's health was then tracked for the next 20 years. Over this time the study found 3,250 women in the group who had undergone screening and 3,133 in the control group who didn't receive screening were diagnosed with breast cancer and 500 and 505, respectively, died of the disease. The difference was not statistically significant. The researchers at the University of Toronto concluded that "cumulative mortality from breast cancer was similar" between the two.
Importantly, nearly 1 in 5 diagnosed cancers were thought to be over-diagnosed. This means that although these patients did indeed have cancers, these small cancers would never become dangerous if left alone. Approximately half of all cancers found by mammography — yet undetected through physical examination — fell into this category, the study authors wrote.that is unlikely to result in death in within their natural life  span. The fact that only invasive cancers were included as outcomes belies that fact that nearly 1 in 4 demographically detected cancers are pre-invasive cancers. This suggests that about 1 in five women have undergone necessary invasive surgery, chemotherapy, radiotherapy or the burden of psychological distress and the emotional turmoil attached to a cancer diagnosis.
This is an important study but is unlikely to gain traction from the proponents of mammography screening. Their critics draw attention to the poorer quality mammography (compared to modern digital mammography) used in that study. Furthermore, it was noted that the study results ran counter to many other studies published supporting the role of mammography screening in preventing breast cancer deaths.
This is one of the more "modern" study, including modern treatment such as Tamoxifen, and that might make this research more valuable than previous studies that showed mammograms prevented deaths. Recent advances in breast cancer treatment have eroded some of the benefits of early detection as they are so much more effective now that the lead time gained by mammography has little impact on the outcome.
Despite the problem of over-diagnosis, there is no reliable way to tell if the often small cancers detected through mammography screening is going to take a malignant course or a non-life threatening course. It can be imagined that most women would choose not to find out.
The U.S. Preventive Services Task Force recommended that most women under 50 could safely skip the test. In Singapore, the BreastScreen Singapore programme encourages women aged 50 years and older to go for screening mammograms (breast X-ray) once every 2 years.
This controversial issue is unlikely to be resolved anytime soon. Patients are advised to seek a detailed consultation from their doctors for a discussion on the pro's and con's of undergoing mammography screening.
We await the publication of local Singapore data on the effects of mammography breast cancer screening to give greater clarity on this topic.
Click here for full article. This full article is published in full in the British Medical Journal.
————————————————————————————————————-
3rd Asia-Pacific Breast Cancer Summit
From the Organizers:
Dear Delegates,
Following the success of the last two years', we are happy to announce that we will be hosting the 3rd Asia-Pacific Breast Cancer Summit at the Shangri-La Hotel in sunny Singapore! Once again, we are bringing together international & regional faculty experts in breast cancer. The focus of next year's meeting is to discuss the most up to date evidence available on treatment options for breast cancer and how to apply this tomorrow for your patients!
It will be a two day event covering surgical, radiation and medical oncology related topics on early and advanced breast cancer management including a special focus on hereditary breast cancer. A window into the molecular underpinnings of breast cancer is another highlight of next year's summit. Back by popular demand, we will have numerous debates, panel discussions and tumour board sessions, in addition to our usual plenary lectures.
We are thrilled to offer this summit again in 2014 and look forward to seeing many familiar faces aside many new faces!
3rd Asia-Pacific Breast Cancer Summit Organising Committee!
Disclaimer: Breastcancersingapore.com is not affiliated with above event. This is merely to promote a good, locally relevant meeting.
————————————————————————————————————-
Following the news of the bilateral mastectomy that Angelina Jolie underwent in a bid to reduce her risks of breast cancers, we have received many questions from members of the public as well as patients asking if they should also test for their genetic risks of getting breast and ovarian cancers.
We have put up a new page with details on screening for genetic breast cancer risks.
Here to briefly summarise:
BRCA1 and BRCA2 are human genes that belong to a class of genes known as tumor suppressors. Mutation of these genes has been linked to hereditary breast and ovarian cancer.
A woman's risk of developing breast and/or ovarian cancer is greatly increased if she inherits a deleterious (harmful) BRCA1 or BRCA2 mutation. Men with these mutations also have an increased risk of breast cancer. Both men and women who have harmful BRCA1 or BRCA2 mutations may be at increased risk of other cancers.
Genetic tests are available to check for BRCA1 and BRCA2 mutations. A blood sample is required for these tests, and genetic counseling is recommended before and after the tests.
If a harmful BRCA1 or BRCA2 mutation is found, several options are available to help a person manage their cancer risk.
For details, please see this PAGE.
————————————————————————————————————-
For your convenience, Breast Cancer Singapore is now accessible via breast.com.sg. Bookmark us for easy reference!
————————————————————————————————————-
Join the PINK RIBBON walk against breast cancer. Every participation is a significant form of support towards raising breast cancer awareness, showing support to survivors and raising funds to further enhance Breast Cancer Foundation's support group programmes and awareness outreach.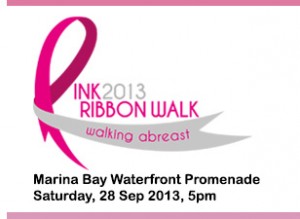 ————————————————————————————————————-
 We celebrate the Second year anniversary of this Site by adding a new section featuring short articles by prominent our very own Singaporean Breast Cancer specialists!
Thank you for your support and click HERE to visit our expanded section now!
————————————————————————————————————-

Straits Times published a short piece on the use of Intra Operative Radiotherapy (IORT) in  the National Cancer Centre Singapore. Click HERE for the article.
————————————————————————————————————-
Breast Screening: More Fuel for Debate.
Every few months see the publication of yet another article questioning if  doctors involved in breast cancer care are telling their patients the full picture with regards to be benefits, and the hazards of breast screening.
This month see the new broadside from the esteemed New England Journal of Medicine: "Effect of Three Decades of Screening Mammography on Breast-Cancer Incidence". The authors conclude that, based on their study:
" …screening mammography has only marginally reduced the rate at which women present with advanced cancer. Although it is not certain which women have been affected, the imbalance suggests that there is substantial overdiagnosis, accounting for nearly a third of all newly diagnosed breast cancers, and that screening is having, at best, only a small effect on the rate of death from breast cancer."
Read HERE for more news!
————————————————————————————————————-
New breast cancer treatment cuts radiotherapy time
BREAST cancer patients in the early stages of the disease who opt to keep their breasts may qualify for a new treatment that cuts six weeks of radiotherapy to one single session of up to 40 minutes.
The intra-operative radiotherapy, unlike conventional therapy, does not involve the entire breast, but targets the tumour site after the tumour has been excised.
Doctors at the National Cancer Centre Singapore (NCCS), where the therapy is offered, said this treatment may persuade more patients to choose a lumpectomy – the removal of the tumour – versus a mastectomy, where the entire breast, including the tumour, is removed.
"These women choose a mastectomy because it's simpler and faster," said Dr Wong Fuh Yong, an NCCS consultant in the radiation oncology department.
"Despite an innate sadness over losing their breast, they choose convenience over bodily function. So we hope to make that choice easier," he added.
The new radiotherapy regime, however, is suitable for only some, not all, early-stage breast cancer patients.
First, the tumour size must be smaller than 3cm in diameter, and the cancer should not have spread to the lymph nodes. Patients must also be above 50 years old.
Other factors include how aggressive the tumour is, and the patient's responsiveness to hormone treatment, said surgical oncologist Ong Kong Wee.
Because it is especially effective for women whose cancers are detected early, the treatment "reinforces the need for regular screening… before the cancer gets out of hand", said Dr Ho Gay Hui, an NCCS senior consultant.
Last year, about 150 patients at NCCS underwent lumpectomies. About a third qualified for the new treatment. The 20- to 40-minute radiotherapy is administered immediately after the lumpectomy, also known as breast-conserving surgery.
With conventional radiotherapy treatment, patients have to return to the hospital five days a week for six weeks.
Since June, six patients have received the treatment with minimal side effects, the doctors said. Side effects from conventional radiotherapy include skin dryness, pigmentation problems, and sores.
Clinical trials are under way to offer the new treatment to a larger group of breast cancer patients.
Madam Ng Kah Goe, 65, is one of the six who have received the treatment.
The part-time seamstress said it has saved her the trouble of travelling from her home in Sengkang to the cancer centre in Outram Park for weeks on end.
"I just felt tired for about two weeks after the operation. But there was minimal discomfort and my appetite returned quickly," said Madam Ng, whose operation took place in June.
Breast cancer is the most common cancer that affects women in Singapore.
About 1,500 cases are diagnosed every year, and about 400 people die from it annually.
Women above the age of 40 are encouraged to screen for breast cancer every year, and once every two years for those aged 50 and older.
As part of next month's Breast Cancer Awareness Month activities, the Singapore Cancer Society will offer a $25 mammography screening subsidy until Dec 31.
There will also be a free public forum on breast cancer on Oct 13 at Concorde Hotel.
source: The Straits Times
适用于初期患者 乳癌新放射疗法只需半小时
本地引进新乳癌放射疗法,将病患的疗程从六周缩短至一次性的半小时治疗,并减少副作用。
这项本区域首见的新放射疗法只适用于初期乳癌患者,至今已有六名病患接受新疗法,康复情况良好。
在今年6月顺利运用该技术医治病患的国立癌症中心放射治疗及癌症专科顾问王茀雄医生昨天在记者会上指出,有些初期乳癌患者基于完成局部乳房切除手术后仍须接受相当长的放射治疗,而索性切除整个乳房。
王茀雄说:"她们主要为便利而牺牲个人身形,我们希望有了这项一次性疗法,能为她们提供一个更简单的选择。"
目前的初期乳癌病患必须在切除乳房肿瘤后,接受为期六周、每周五天的放射治疗,才能取得与切除整个乳房者相同的存活率。然而,通过这项称为"术中放射治疗"(Intra-Operative Radiotherapy,简称IORT)的新技术,医生能在切除肿瘤后,运用一个特别仪器进行针对性的局部放射治疗。疗程是一次性,平均约30分钟,而且能减少让正常身体组织,如皮肤下的肺部和心脏暴露在辐射下,降低副作用。
比现有疗法贵20%到30%
刚在今年6月接受IORT的裁缝师王巧娥(65岁)便是看中新疗法能省却来回医院接受放射治疗的麻烦。"手术后,我没有任何疼痛,只是头两个星期较疲倦,但两周后我就回去工作了。"
然而,由于新放射疗法所采用的仪器价格高达150万元,因此IORT的收费比现有疗法贵大约20%到30%。目前的六周放射疗法价格约6000元(不包括政府津贴)。
国立癌症中心正在与卫生部探讨将新放射疗法纳入津贴项目。王茀雄医生也认为,随着更多病患接受新疗法,该收费有望降低。
定期接受检查患者75%适合新疗法
尽管如此,却不是每个乳癌病患都适合接受IORT。高级外科顾问何毅慧医生指出,新疗法只适合肿瘤小于3公分、侵袭性较低,且癌细胞未侵入淋巴结(lymph node)的初期乳癌病患。
因此,配合来临10月的"乳癌意识月",也是该活动筹委会主席的何毅慧医生强调,妇女定期接受乳房检查尤其重要。
专长乳房外科手术的外科顾问王光伟医生说,通过定期乳房检查而得知患癌的乳癌病患中,有高达75%适合接受IORT,但等到自行检查发现硬块时,肿瘤往往已介于2.5到3公分,这个阶段只有四分之一病患适合接受IORT。
我国年龄40岁以上妇女当中,只有不到40%定期接受乳房检查,远远低于西方国家的80%。保健促进局对这个低检查率感到担忧,并呼吁本地女性不要再拖延或等到有症状才检查。
为期一个月的"乳癌意识月"今年将着重推广尽早检查的信息。新加坡防癌协会为鼓励妇女接受乳房X光检查(mammogram),也将提供25元津贴给40岁以上妇女。
Source: LianHe ZaoBao
————————————————————————————————————-
Malay breast cancer patients fare worst: Study
There are well appreciated differences in the presentation, response to treatment and the outcomes of breast cancer between the races. A local study was recently published examining the differences in survival between the races in South East Asia.
According to a new joint research by a Singapore hospital and a Malaysian one, Malay women with breast cancer are more likely to die than Chinese and Indian women with the disease.
Malay patients tend to be diagnosed younger with larger tumours and at later stages. Malay women also had more malignant and aggressive tumours compared to Chinese and Indians with similar tumour sizes.
The links between ethnicity and breast cancer survival rates emerged in the study of 5,200 patients from the National University Hospital (NUH) and University Malaya Medical Centre (UMMC) in Kuala Lumpur.
The study report can be found here.
————————————————————————————————————-
Expanded section on the late complications of breast radiotherapy
Patients are often, and rightfully, concerned about the potential side effects they may experience as they undergo radiation. Your radiation doctor is the best source of these information. Before radiation is offered, he will give you detailed and relevant information about the rationale, procedure and side effects associated with the proposed treatment.
We have compiled some relevant information here that is applicable  to most patients undergoing radiation to the breast or chest wall. Take a look at the potential acute side effects as well as the small risks of late long term side effects in these newly added pages.
————————————————————————————————————-
Proton Therapy in Singapore announced
The National Cancer Center Singapore announced their plans to install a SGD $100 Million dollars proton therapy machine at the site of their new centre.
It remains to be explored how this newer, more precise treatment can be integrated into the management of breast cancer.
————————————————————————————————————-
The Seminar will celebrate 10 years of BreastScreen Singapore (BSS), showcasing BSS' achievements and significant developments in screening for breast cancer as well as breast cancer management. The Seminar will cover major topics such as intra-operative radiotherapy, breast density and breast imaging technology.
————————————————————————————————————-
Breast Screening: The debates rages.
* * * * * * * *
"In April, the National Cancer Centre Singapore (NCCS) published a study begun in 1994 that had followed 28,000 women aged 50 to 64 for a decade. It reported that women of all the three major races here with a close family history of breast cancer were twice more likely to get it than a Western female. But those with no such family history were at only half the risk of a Western female.
That is because mammography leads to "overdiagnosis" in the lower-risk group who thus "would benefit less from it", the NCCS said. Those in the high-risk group, however, should consult their doctors on its need."
 * * * * * * * *
The Straits Times published an article by Andy Ho on the suitability of breast cancer treatment for women included under the current guidelines. Evidence suggests that there is a subset of women with sufficiently low risk of breast cancer (hence low likelihood of benefits) such that they are more likely to be harmed as a consequence of the screening process (such as from further invasive procedure that poses a small but finite risk).
Further more, he touched on the contentious issue of cancers (including pre-invasive cancers) that are of such low malignant potential that they may not cause problems for the women in whom they are detected in their natural life span.
These arguments broadly parallels the evolution of our understanding of the natural history of cancers such as prostate cancer. Until these issue is clarified with further studies, my recommendations are to stick with the current national guidelines, ESPECIALLY more so if there is a significant family history.
See HERE for his complete write up.
The  Breast Cancer Risk Assessment Tool (the Gail Model alluded in his article) is an interactive tool designed by scientists at the National Cancer Institute (NCI) and the National Surgical Adjuvant Breast and Bowel Project (NSABP) to estimate a woman's risk of developing invasive breast cancer. The tool has been updated for Asian and Pacific Islander women in the United States based on the Asian American Breast Cancer Study (AABCS).
It must be emphasised that this model is constructed based on a western population which has distinct differences in cancer incidences, age at presentation compared to the Singaporean population. We await the release of a locally validated and calibrated version of the Gail model based on our indigenous population. Until then, interested readers may want to check out the online risk calculator HERE.
————————————————————————————————————-
The INTRABEAM is now available at the National Cancer Centre Singapore for use in the post-surgery treatment of patients* with Breast conservation Surgery for breast cancer.
* This procedure is suitable for breast cancer patients meeting certain criteria. Patients not suitable for INTRABEAM radiotherapy as a routine service may be suitable to receive this new treatment method under a study conducted by NCCS. Contact us for further details.

————————————————————————————————————-
An article on Breast Conserving therapy has been published in the "Mind Your Body" supplement in The Straits Times, Singapore by Dr Wong Fuh Yong.
————————————————————————————————————-
Validation of the Gail model for predicting individual breast cancer risk in a prospective nationwide study of 28,104 Singapore women
Wen Yee Chay et al
The Gail model (GM) is a risk-assessment model used in individual estimation of the absolute risk of invasive breast cancer, and has been applied to both clinical counselling and breast cancer prevention studies. Although the GM has been validated in several Western studies, its applicability outside North America and Europe remains uncertain.
The Singapore Breast Cancer Screening Project (SBCSP) is a nation-wide prospective trial of screening mammography conducted between Oct 1994 and Feb 1997. With the long-term outcomes from this study, we sought to evaluate the performance of GM in prediction of individual breast cancer risk in a Asian developed country.
The GM over-predicts the risk of invasive breast cancer in the setting of a developed Asian country as demonstrated in a large prospective trial, with the largest difference seen in older women aged between 60 and 64 years old. The reason for the discrepancy is likely to be multifactorial, including a truly lower prevalence of breast cancer, as well as lower mammographic screening prevalence locally.
——————————————————————————————————————
Puay Hoon Tan et al
Cases of breast PT diagnosed in the Department of Pathology Singapore General Hospital between January 1992 and December 2010 were stratified into benign, borderline and malignant grades based on a combination of histological parameters (stromal atypia, hypercellularity, mitoses, overgrowth and nature of tumour borders). Surgical margin status was assessed.
A predictive nomogram based on three histological criteria and surgical margin status can be used to calculate recurrence-free survival of an individual woman diagnosed with PT. This can be applied for patient counselling and clinical management.